INTIMATE WEDDING
The Hunting Lodge, Udaipur
Amidst the alluring surroundings of the lush green valley of Aravalli hills, The Hunting Lodge Spa & Resort is an opulent forest resort encircled with a number of scattered national parks and nature parks. The vicinal forests are home to the wildlife species like Panthers, Crocodile, Wild Boar, Deer, Leopards, etc.
The resort is curated by elite hotel and resort chain – The Zennia Hotels. In continuation of our ongoing efforts to develop luxurious and exciting experiences through our 5-star category hotels and resorts within Aravalli ranges, The Hunting Lodge erected as an ultimate blend of serene beauty and modern comfort overlooking the majestic hills, forests, wildlife range, and the splendid lush-green gardens.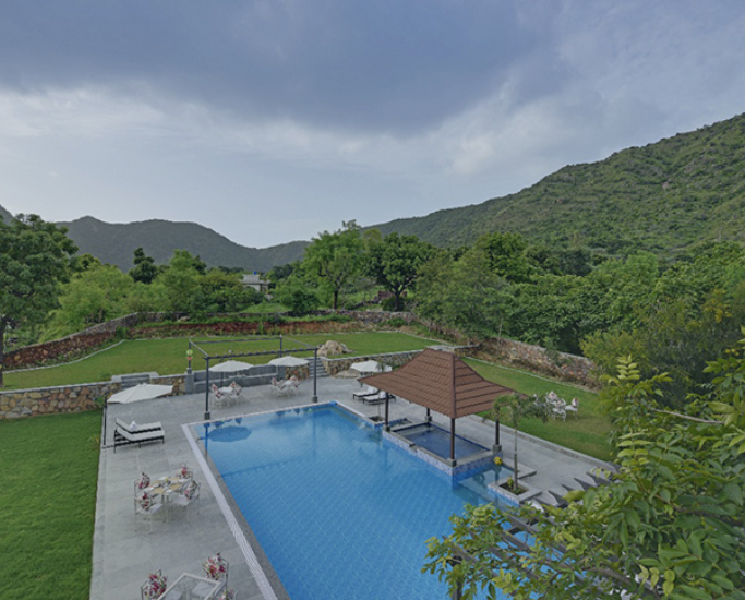 Hidden among the lush undulating hills of Aravalli, The Hunting Lodge sits among thriving green fields as far as the eye can see. The architecture and aesthetics complement the beauty of natural surroundings. Under the luxury umbrella of Zennia Hotels, The Hunting Lodge is positioned at key locations around the mountain and act as gateway to Udaipur. Within easy reach of the airport and the scenic wonders of Udaipur city, the resort is perfect for those seeking spiritual and recreational delights. There are few resorts that revere nature's gifts like we do, and absolute discretion for our guests is the pattern of our hospitality craft.
A secluded haven for romantics, adventurers and the mindful; The Hunting Lodge commit to offering an unrivalled quality of customer service. A place where time slows down, connecting you with vibrant mother nature and offering rejuvenation.